What is ProRes?
iPhone 12 Pro and Pro Max already had a killer camera capable of shooting 4K resolution videos. Apple has now taken the camera of iPhone 13 Pro and iPhone 13 Pro Max to a whole new level with the capability to record videos in ProRes format.
For those who are new to this ProRes term let us briefly explain its origins. Apple ProRes is a high quality, lossy video compression format developed by Apple Inc. for use in post-production that supports video resolution up to 8K. It is the successor of the Apple Intermediate Codec and was introduced in 2007 with Final Cut Studio 2.
ProRes allows the camera to capture more information when shooting and thereby allowing for greater control in post-production in software like Adobe Premiere, Final Cut or DaVinci Resolve. ProRes is frequently used in professional video productions, but Apple has now made it available on the most recent iPhone.
Enable ProRes
To enable your iPhone to record videos in ProRes, go to Settings > Camera > Formats, then turn on Apple ProRes under Video Capture. To record a ProRes video, tap ProRes in the Camera app, then record your video.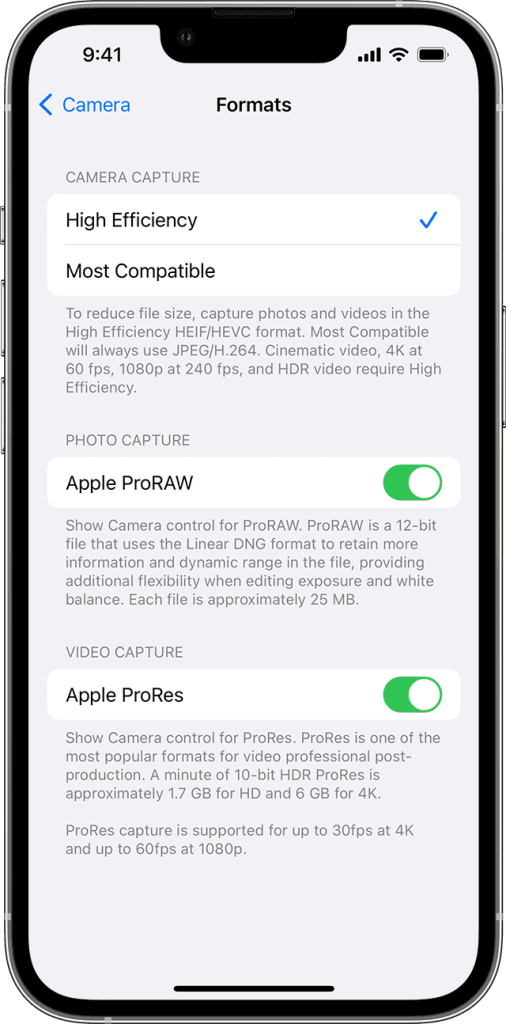 iPhone 13 Pro supports ProRes recording in HDR using the HLG format or in SDR, and supports these resolutions and frame rates:
ProRes support for 256 GB, 512 GB, and 1 TB storage capacity:

4K at 30 frames per second (fps)
4K at 25 fps
4K at 24 fps
1080p HD at 60 fps
1080p HD at 30 fps
1080p HD at 25 fps

ProRes support for 128 GB storage capacity:

1080p HD at 30 fps
1080p HD at 25 fps
If you turn ProRes off in the Camera app, the format of the video defaults to the format you set under Camera Capture in Settings > Camera > Formats: either High Efficiency (HEVC) or Most Compatible (H.264).
Edit a ProRes file
You can edit Apple ProRes files in the Photos app or iMovie for iOS, in iMovie or Final Cut Pro for Mac, or in third-party editing apps that support ProRes.
These Apple devices can support ProRes playback and editing:
Mac with Mac OS X 10.6 and later
iPad Pro 12.9-inch (3rd generation) and later
iPad Pro 11-inch (1st generation) and later
iPad mini (6th generation)
iPhone 13 mini, iPhone 13, iPhone 13 Pro, iPhone 13 Pro Max